Welcome to Driving Dynamics
Last Updated: 31 March 2016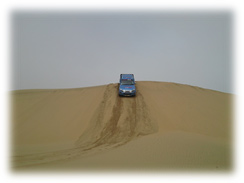 Since 1994, we have been turning ordinary people in to remarkable drivers - imparting the knowledge and teaching them the skills that they need to rediscover their love of driving.
Driving should, after all, be a pleasure, an experience that rewards you with a level of satisfaction commensurate with your investment in your vehicle... and that's no small investment in this day and age!
In reality though, driving is seldom a pleasure in South Africa. You'll agree that the general lack of discipline on our roads, death of proper driving skills, spectacular inability of drivers to handle their sophisticated modern vehicles, as well as the ever-present hijack threat, all combine to make the experience less than satisfactory.
You can change that, by taking charge and signing up for one of our courses. Our training will equip you with skills that empower you to reduce the likelihood of being involved in an accident or hijacking incident, to get the most out of your vehicle, and to experience the thrill of driving.
What's on offer at Driving Dynamics?
We offer a wide variety of courses and services, for individuals and companies. Here's an overview of what this embraces:
Specialised driver training courses:
Advanced driver training for passenger & 4x4 vehicles
Hijack prevention
Self-protection
Corporate events & adventure safaris:
In-depth vehicle features & benefits training
Specialised driving for...

New vehicle product launches
Film & Ad productions

Team building weekends
Adventure trips & safaris into Africa...

Bush tracking
Camping & beach 4x4 adventures

Customised day packages for car club meets
Customised events for every occasion
Promotions
Exhibitions
Who will train me?
Relax! You'll be taught by the best. At Yokohama Driving Dynamics, driver training is taught by a team of professional drivers and trained instructors, with vast experience and racing backgrounds. You also have the choice to use either one of the fleet vehicles provided or your own vehicle.
Where will training take place?
Training takes place at Gerotek Vehicle Testing facility on the R104, 13km's west of Pretoria. It is regarded as one of the nest training facilities in the world and offers the following facilities...
Full conference & training centre facilities
Catering, Restaurants & Canteens
Two full-size skidpans
3 km high speed track
Dynamic handling race track
Concrete ride & handling ability track
1km straight for lane changing exercises
Full 4x4 handling & ability tracks
Gerotek Test Facilities - a Division of Armscor Business (Pty) Ltd. Reg.No. 1990/003885/07Church Street West Extension, Pretoria - Pelendaba Road (R104)PO Box 7410, Pretoria, 0001, South Africa
What vehicles do I train in?
Since 2003, we have been supported by General Motors South Africa in our advanced driving academy. We have the full range of GM high performance vehicles.
This could be further complimented by the exciting range of GM recreational vehicles, such as the Isuzu KB range, and  all new GM lifestyle vehicles.
Driving Dynamics relationship with the SAPS
Besides being an active member of the South African Police Reservist Unit for the past 15 years, serving at Fairland SAPS and the Johannesburg Flying Squad,
Driving Dynamics has been involved in Defensive & Advanced Driver Training of members for more than 10 years
During this time we have training the following SAPS Units in Defensive & Advanced Driving Skills...
Special Task Force
Flying Squad
National Surveillance Unit
Diplomatic Protection Services
Crime Combatting Services
Various Reservist Units
From March 2009 to March 2010, Driving Dynamics provided Advanced Driving Skills Courses to members of the SAPS, training more than 2000 students during this time.
Since 1999 Commissioner Mike Fryer has requested our services to provide Off-Road 4x4 training for members of the Special Task Force and cross border operations for Operation Rachel and Operation Mandume, arms destruction programs in Mozambique and Namibia.
Many of our instructors have been experienced Police Officers who understand first-hand the pressures and skills needed for driving Police vehicles in dangerous situations.
Our company has presented numerous Advanced Driver Training for overseas Law Agencies in VIP protection.
We feel with our understanding of the needs of the SAPS and their driving standards we are ideally placed to provide Defensive and Advanced Driving Skills at all levels.
Advanced On-Road Driving Skills
If you have been driving for a long period of time, do a lot of driving on a daily basis, or simply want to master the art of advanced driving, then this course is for you.
Our Advanced On-Road Driving Skills course will polish your elementary driving skills, equip you with a whole new set of advanced driving skills and reduce your accident risk profile in the process. You also have the choice to do the course with either a passenger or a 4x4 vehicle.
You know this already, but it bears repeating - a good driver attitude, awareness and discipline are your primary defences against collisions. Complete this course and you'll leave with a healthy combination of all three.
Advanced On-Road Driving Skills is a one-day course, but if you're pressured for time, you may also arrange to divide it into two parts.
This is the ultimate driving course for the serious driver and gives you a completely new perspective on driving, while equipping you with the skills that are second nature to racing drivers, Step aside Schumi... here I come.
When you have successfully completed this course, you'll possess an entirely new set of critical driving skills that reduce you likelihood of becoming involved in an accident. However, by far the greatest benefits that you will derive from this course, is that of increased confidence, and, therefore, driving enjoyment. A reputable insurance company may also reward your efforts by decreasing your monthly insurance premium.
Corporate Events
Does the thought of another company event make you start yawning and reaching for your pillow? Perhaps it's time to try something different then.
At Driving Dynamics we are highly adept at breathing new life into old event concepts.
Whether your desired event is a team building weekend, an incentive safari trip, a car club meet or any other event you can think of, speak to us. We'll customise and event for you that really will blow your hair back for a change.
Team Building
You've braved the rapids, abseiled Chapman's Peak, negotiated the obstacle courses and pitched yourself off a platform into the arms of your colleagues, yet the camaraderie that teams are built upon continue to elude your organisation.
Pull out those camos, don those boots, pack your bushveld rucksack, drop the pose and set your team to the task of Saving Cindy.
This team building concept originated in the military and under the experienced auspices and in the capable hands of Driving Dynamics, Operation Saving Cindy creates the glue that holds teams together for years to come.
Make no mistake... this is no Camp Staaldraad! This is a professional and highly effective team building exercise, where teams succeed or fail on the strength of their cohesion. It encourages and rewards participation and initiative and builds leadership while rewarding those who execute orders.
Adventure Safaris
Yes it is entirely possible to take your staff, dealers and other key stake holders on one incentive trip to many sites with sun drenched beaches and waving palms. If you're stumped for alternatives though, don't settle for the old island incentive trip, consider an adventure safari north of the border for a fresh new idea that will actually thrill your targets for a change.
Driving Dynamics has several years' experience in arranging adventure safaris for organised groups, to experience the thrill of bush tracking, camping and negotiating Mozambiquian beaches in 4x4's or on quad bikes.
Tell us what you really looking for, we'll customise a package for the exact adrenaline rush you're after.
URBAN WARRIOR EVENTS
Our experience and abilities don't start and end at team building and product launch events. We can revive your annual car club meet with a package that will bring your members back next year, with friends in tow. We'll spice up your sales, dealers or staff programs to the extent where training really does make an impact or the incentive, promotion actually incentivises them for a change.
Before you settle for the ordinary, off-the-shelf event or promotion, speak to us. Whatever it may be, if it's within the realms of the possible, we'll bring it to fruition - successfully.
Product Launches
When the dancing girls fail to excite and the smoke and lights no longer dazzle a jaded audience the signs are there - now would be a good time to try something new.
Perhaps your product is a vehicle whose features would be better introduced and demonstrated by high-speed chase on a skidpan, then by unveiling it through the mists of machine - generated smoke on a revolving platform. Or maybe it is a new razor whose speed performance and handling capabilities could be likened to and demonstrated via the performance a vehicle at high-speed on a circuitous route, it certainly beats having the product drop from the sky into the hands of a ballet dancer.
Point is, it doesn't matter what your new product is, if you need something different to capture and hold the interest of your audience speak to us. We'll provide you with fresh ideas and concepts and the faultless execution of your product launch.
.